Charlie Green: A day in the life of a Talent Manager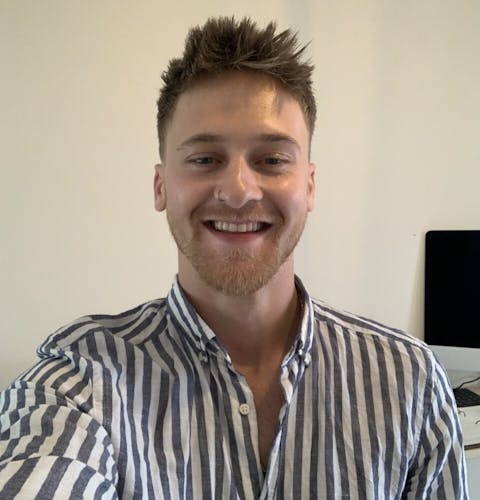 Ever wondered what the day looks like for a Talent Manager? Well Charlie is here to tell you what happens during his day...
What do people think you do as a Talent Manager?
Most start off with "any big names I'd know of?", as they picture me meeting Tom Cruise for a coffee. Whilst I don't work with Hollywood A-Listers, that's not to say I don't work with some incredible talent. We work to make their lives as simple and successful as possible, not just responding to clients and meeting for coffee.
What do you actually do as a Talent Manager?
As a Talent Manager I wear quite a few different hats (all of which can be a little stressful). But with a small sacrifice does come some amazing rewards. As I work with content creators and influencers I not only manage their inbound requests, but also discuss with them potential opportunities for content and fun campaigns, not just sponsorships. I check in with my talent almost daily, and they know if anything comes up I'll be on hand to help them out so they can focus on what they do best, creating amazing content for their communities.
Pre 9am
Get up, drink a big glass of water, and make sure I don't open social media or I'll lose at least an hour. Grab some toast and read over my notes from the day before so I know what's ahead of me. A few mornings of the week I'll try to head to the gym and get that out of the way too.
9-11am
First thing I'll do when 9am hits is open any of the apps I use to talk with my talent - there's usually a few messages from the night before as their schedules often go late. I then make sure I respond to any urgent messages and make a list of the things I need to do before the end of the day. I then check my emails for any new opportunities that come in and usually finish the hour with a few meetings and calls.
11am-1pm
I often use this time to update any of the tracking and talent information documents I have for my creators with their stats and any new opportunities that I'll need to follow up with. I usually have contact with the creators a lot during this time so I make sure I'm prepared to talk them through interesting opportunities and get updates for upcoming campaigns.
Lunch
My lunch very much depends on mood, but most of the time it's based on what is quickest and easiest to make. Often it's some pesto pasta or a carbonara of sorts, other days if I'm lucky my girlfriend will also be making lunch and will make me an omelette. Whilst I eat I usually watch other gaming content creators on Twitch or YouTube for some inspiration (and to improve my Warzone skills).
2-4pm
After lunch and fuelled by my excitement to kick ass at Warzone in the evening, I begin searching for new talent to grow the gaming roster in line with our growth strategy, documenting these creators as I go creating tailored emails to suit the individual. 
4-6pm
The afternoons around this time are usually set so that myself, the other talent managers, and the CEO can update everyone on interesting opportunities, active campaigns, anything in the pipeline, and also wider company updates. This always gives me ideas for brands I can contact, as well as sparking some content ideas I can take to my talent. I then use whatever is left in the day to make notes for myself which I can pick up the next day.
Post 6pm
Every now and then some messages will come in from talent (often when there are campaigns going live), so I'll make sure I have my phone close by to respond to any urgent questions or deal with any issues. But aside from that I power up the PS5 for a couple hours of gaming and then make dinner for my partner and I to sit down and watch whatever TV series we're sucked into (currently it's Travellers on Netflix).
What's your favourite part of being a Talent Manager?
I hate to echo what I imagine most talent managers would say about their favourite part of the job, but it's hard to say anything different. Being able to help my creators in any way I can, and the appreciation they show for this is unmatched.
What skills do you need to be a Talent Manager?
In hiring a new talent manager there's a few key skills I'd look out for. Having great people skills, a lot of patience, and natural sales skills are all things I would look for. But there's also things like being kind, eager, and inquisitive are also important in making a successful talent manager.
What makes a good content creator/influencer?
To answer this question fully I'd probably need about 6 months and 100 more pages, but generally speaking a good content creator or influencer would have visibility on multiple platforms, a strong relationship with their audience, a relatively family-friendly tone, and someone who is regularly searching for and coming up with innovative ways of making and delivering content.