Anthony Savva: A day in the life of a Talent Executive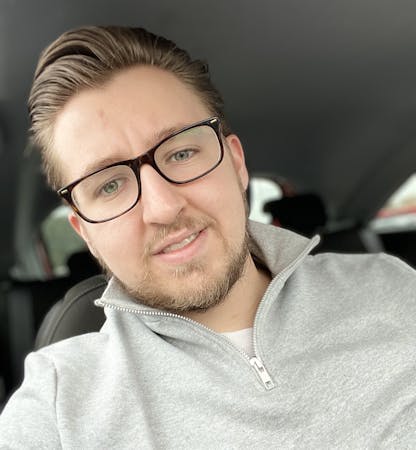 What do people think you do as a Talent Manager?
Oh you work with 'influencers' is the first thing I get told! People think it's lunch out all day, sending a few emails here and there, whilst being a PA to these big time content creators. 
What do you actually do as a Talent Manager?
I look into the abyss and wonder how my creators are going to meet their deadlines. In all honesty, as much as the job presents challenges, it's amazing working with some of the best creators across YouTube, Tiktok, Instagram and YouTube. I manage their business inbox and pricing accordingly with their campaigns and push them too. I also provide content ideas, making sure payments are on time and general maintenance of running their business such as VAT. 
Pre 9am
Alarm goes off at 8:30. Coffee (a must), get ready for the day and take the dog for a walk. This is key for me, especially working from home, I want to get as much fresh air as I can. I then sit down and look at emails and communications from brands and content creators. 
9-11am
I always start the day with getting back to the content creators with any questions or concerns they may have. We try to respond to creators with a two hour window to insure that it keeps our content creators happy. Once this has been completed it is meeting up with the rest of the team via Discord and getting back to any inbound mail. I always like to scope out my day for example, what meetings I have, what updates I need to chase and I note this down in my notebook so I can plan my day around it. 
11am-1pm
At this point into the day I have responded to all the morning emails, creators and caught up with the team. This is when I tend to have my creator meetings. This will consist of a half an hour slot of catching up with them via video call. We tend to meet with our creators once every two weeks but we are always at the end of the phone to take their requests. I also use this time to check on our campaigns board on Asana. This is with the utmost priority for Turopium as this provides all campaign information and ensures our creators are getting the best service. 
Lunch
My lunch consists of… you guessed it, coffee. I tend to go to the gym on my lunch when time allows it as I like to have a fresh mind going into the afternoon. My lunch really varies on how I am feeling on the day but anything that is carbs hits the spot because let's be honest, it's the best type of food. 
2-4pm
This time of the day can consist of more creator meetings, responding to any issues that may have occurred during the morning into the afternoon. 
4-6pm
This is the time of day where we tend to wrap up what we have been working on for the day and on Monday, Wednesday and Friday we have our Turo Scrum around the 4 o'clock mark where we get together as a team and discuss all things creators, how we are doing and if we need any assistance. This is great as we are working from home, it is nice to just chat and build those relationships within the team. 
Post 6pm
Shut my laptop, play some Warzone to a point where I hate the game more, then it is off to gym if I haven't been during lunch. 
What's your favourite part of being a Talent Manager?
Working with creators I have watched as a teen. I have grown up in this industry and to be part of it and applying my university knowledge to it just sweetens the deal.
What skills do you need to be a Talent Manager?
Being a people person and a great passion for the influencer market as a whole. These creators message on weekends and unsociable hours so having that passion is key. Second to passion is communication and organisation. You are managing a number of creators and therefore being able to have that quickness in replies to brands and creators and staying on top of that only progresses you further in the role. 
What makes a good content creator/influencer?
Knows the vision of their channel, the audience and ultimately loves what they do and takes pride in it. Content creators showing their love for their channels is something I love to see. Finally, seeing our content creators get excited for deals and how it can benefit their audiences is a great feeling and really makes the job worth while!